Rook

Joined: Sun Jan 18, 2009 12:59 pm
Posts: 120
Location: Arkansas, US
Rating Class: Novice (<1200)
Re: Pogo's Training Journal
I play the French, almost exclusively as black. At least for now, until I develop into a stronger player, and then I might start playing some more openings. But for now, I'm sticking with learning the various lines of the French (and English defense), in the case of something like c4 d4 openings for white).

So, that should mean that I know most of the lines in the French quite well. At least, probably as well as anyone at my level, right?

So, why shy away from playing against the French when I am white? If I'm so familiar with the system, I shouldn't mind playing against it, especially if someone is trying to use it and isn't quite as familiar with it as I am. I mean, I know what they're trying to accomplish, so I can try outplaying them, right?


So that said...why am I playing d4 c4 queen's gambit? Well, starting with the tournament game I just finished against JWhis, I'm now going to start focusing on learning some e4 openings for white. I mean, some players, like me, will respond to d4 with e6 so that after e4 d5, we're transposed into the French, but meh, Ionno. I'm just going to be trying some d4 openings.


So, here's my first game in quite some time using 1. e4...




[Event "unrated standard match"]
[Site "Free Internet Chess Server"]
[Date "2009.05.20"]
[Round "?"]
[White "xPOGOx"]
[Black "Whis"]
[Result "0-1"]
[WhiteElo "1307P"]
[BlackElo "1563"]
[ECO "C68"]
[TimeControl "900"]

1. e4 e5 2. Nf3 Nc6 3. Bb5 a6 4. Bxc6 dxc6

As I found out while research after the game, this is the Ruy Lopez Exchange Variation (C68)

5. Nxe5

Turns out, this isn't such a good move. Black should respond Qd4, attacking the knight and pawn. White has no way to defend and black probably equalizes here. ...Qd4 6. Ng4 Qxe4+ 7. Ne3... from here black can develop a piece and white has no pawns out, and his only developed piece is pinned to the king.

Bd6 6. Nc4 Be7

But Whis didn't see Qd4. I'm not sure what he was trying to accomplish with Bd6, besides scaring my knight, but I just play Nc4 with tempo.

7. d4 Nf6 8. Nc3 Bg4 9. Qd3 O-O

Simple development. I feel pretty confident. I'm a pawn up, I've got the center dominated, and my opponent has no d or e pawns. From here, I considered castling, but with no d or e pawns, I thought the queens might be coming off the board soon (not the case), and I've heard that when the queens come off the board and you start moving toward an end game, it's better to have the kings in the middle. I thought by leaving my king uncastled (at least for now), I'd have an advantage as we moved toward an endgame.

10. f3

I did, however, have ideas about castling queenside, dropping a rook behind the queen on the d-file. I played f3 to clear that path just as much as to boot the bishop...

10. ... Be6 11. Ne5 Nd7 12. f4 Nxe5 13. dxe5 Bh4+ 14. g3 Be7 15. f5

Here, I mainly had ideas on a central/kingside pawnpush. I thought I had something good going over here. I was certainly inhibiting the utility of his bishop pair, and definitely gobbling up a lot of space. Black has almost no maneuver room here.

15. ... Bd7 16. h4 b5 17. Bg5

Again, the idea here was queen side castling to stack on the d-file, as well as possibly trading bishops, eliminating what I thought was his main advantage--the bishop pair.

17. ... c5 18. f6 gxf6 19. exf6 Bd6 20. O-O-O Bg4 21. Rde1 Be5 22. Nd5 c4 23. Qe3 Qd6 24. Kb1 c6 25. Ne7+ Kh8 26. Nf5 Bxf5

All this seemed fairly natural to me, right? Anyway, here's where I blunder the game away. I was trying to keep hold of f-pawn, not realize there was no way for me to do this and not get the piece back. From here, I should have just played exf5. We probably then trade bishops on f5, and we're equal material, but I've got connect kingside pawn majority, and his queenside pawn majority is gimped by the doubled c-pawns. Also, his f and h pawns are isolated, and his king isn't particularly safe. Additionally, I've got control of the e-file, and my opponent has to concede control of the d-file after I play Bxf6+ (or I'm just up a piece and probably close to a mate).

According to Fritz, I had an advantage the entire game until I played Rhf1, at which point, there was a huge swing. I played the entire rest of the game bad...so I'm not even going to comment. I do think I played the opening excellently, even if Nxe5 is a mistake and my opponent missed the appropriate Qd4 response.

27. Rhf1 Bg6 28. Rd1 Qb4 29. c3 Qa5 30. Qc5 Qc7 31. Qe7 Bxe4+ 32. Ka1 Rae8 33. Qxc7 Bxc7 34. Rfe1 Bg6 35. Rxe8 Rxe8 36. a3 Bxg3 37. Ka2 Bd3 38. Rg1 Bf2 39. Rg2 Be3 40. b4 Bxg5 41. Rxg5 Re2+ 42. Ka1 Bg6 43. Rc5 Re6 44. Kb2 h5 45. Kc1 Rxf6 46. Kd2 Re6 47. Kd1 Kg7 48. Kd2 f5 49. a4 Kf6 50. axb5 axb5 51. Kc2 f4+ 52. Kb2 Be4 53. Rg5 f3 54. Rxh5 f2 55. Rh6+ Kf5 56. Rxe6 Kxe6 57. Kc1 f1=Q+ 58. Kd2 Qf2+ 59. Kd1 Bd3 {xPOGOx forfeits on time} 0-1
Rook

Joined: Sun Jan 18, 2009 12:59 pm
Posts: 120
Location: Arkansas, US
Rating Class: Novice (<1200)
Re: Pogo's Training Journal
Lots of pawns end game!
This was kind of a fun end game.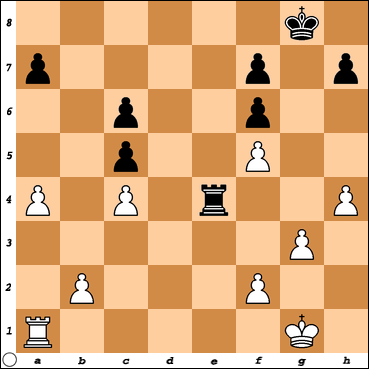 I do have a one pawn advantage here (I was white), but more importantly, I managed to give my opponent two sets of double isolated pawns, whereas I have just the one double file, and it's not isolated. I had noticed my pawns had a bit of a head start on his, so I started trading of pieces. But more specifically? I was trading off pieces in a manner that would absolutely crush his pawn structure. Even his two undoubled pawns are on the rook files, which aren't all that great for him.
Here's what the final board position looked like, when I checkmated my opponent playing Rc8.