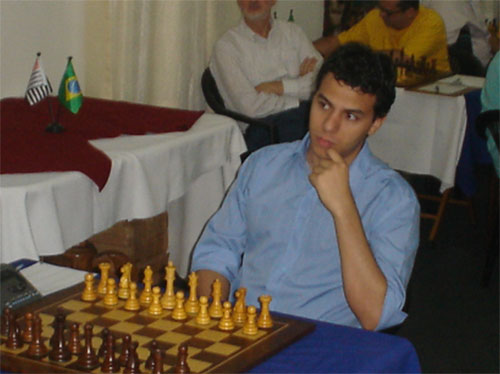 I was born on October 28th, 1981 (25 years old), in Brasilia, the capitol of Brazil. I learned to move the chess pieces on January 1st 1997, at the age of 15, when my father gave me a chess set and a beginner's book as the best New Year's gift ever. It was pure love at first sight, I ate up my first book and a few months later started competing in local tournaments. Partially through the influence of chess books and articles I was able to learn English and Spanish languages, self-taught. As an intermediate-to-advanced player I participated in two courses given by Swedish GM Ulf Andersson, but I was mostly taught by local FM Adriano Valle. This training lasted 1 year and a half and, after I reached his level, I started training on my own, obtaining the IM title in 2003.
As an IM I've defeated quite a few GMs up to this point, like Gilberto Milos (3 times), Rafael Leitao and Darcy Lima from Brazil, Walter Arencibia from Cuba and Andres Rodriguez from Uruguay. In two opportunities I almost reached my first GM norm (in both cases losing the decisive game to my nemesis and good friend GM Oswaldo Zambrana from Bolivia), but I've not been competing much since the beginning of 2005, when I took up coaching. The latter has become my main activity since then, as I identified myself greatly with the task of helping people improve.
I'm also an active chess writer and a columnist in a Brazilian chess magazine. Due to professional reasons I left my hometown of Brasilia and since November 2006 I live in Santos, a beautiful beach city in the state of Sao Paulo, where the chess activity is much higher. Recently I've also been dedicating myself to my website, which is due for launching in Portuguese in October and in English in December/07.
I'm currently #1 on ICC's list of Most Active Teachers and I give audio-based lessons in Portuguese, English and Spanish languages for very reasonable fees. All my students get constant e-mail consultation and homework assignments on a weekly basis. I have worked with students from 9 to 65 years old, from beginner to advanced level and from all the five continents. Quite a few of them have been winning important tournaments and money prizes up to US$3.000, mostly in the well-paid U-sections of U.S. Open tournaments. However, my main accomplishment as a coach is the fact that every student who committed to a long-term training with me has improved his/her playing level substantially, even those who have very little time for studying chess due to their demanding professional activities.
FIDE Rating Card