Re: Zibbit - LB-74: W vs Locke [16:30]
Yes I think e4 is often possible. For instance in this theoretical postion:
Black to play
Every good player with black plays ....f5, presumably to stop e4.
In the game I played, e4 is possible instead of Bf4 but I don't like it. I think black gets his play in, plays a quick b5 (possibly b4) followed by ...Na5 and c5.
On move 17 I probably should have gone e4, giving me a strong cente and still stopping ...c5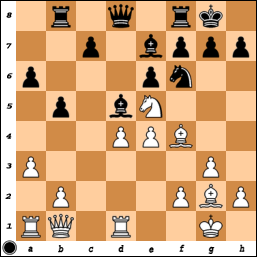 After 17.e4!
_________________
Visit me on zibbit64.blogspot.com