[NOTE: Viewers should be aware that eimaj also live comments the Chesser-Gentlewhisper game on this video. That analysis begins at 97:20]
Thanks for highlighting this - when I noticed that their game was starting I couldn't resist =)
Thanks for the game(s) and the in-depth analysis which I quite enjoyed- you contemplated a couple of good plans that you ended up rejecting during the game. I can't believe I watched the whole thing!
BTW, I believe the White opening Wuzhe played is known as the Colle-Zukertort which is a popular line with club players though White generally plays Bd3 rather than e2.
=========================================
Diagram 1: After 2...b5 (from the game):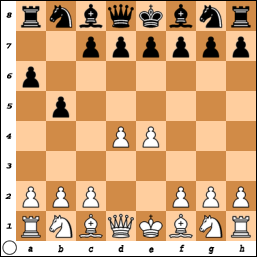 In our game, as far as 3...a4 goes, I remembered Tony Miles' analysis from his
game
in this line with Karpov (who rejected 3.a4 and later went on to lose(!) for other reasons) that he was unafraid of it and was contemplating 3...b4!? with an odd but possibly playable position as well as 3...Bb7. As he says: Chandler-Basman, London 1979, which went 3 a4(?!) Bb7 4 axb5 axb5!? (simple and good is 4...Bxe4 5 bxa6 Bb7 or even 5...Nxa6) 5 Rxa8 Bxa8 6 Nd2 e6!? 7 Bxb5 f5 8 Qe2 (8 Qh5+ g6 9 Qe2 seems preferable) 8...Nf6 9 Bd3 c5 10 Ngf3 c4! 11 Bxc4 fxe4 12 Ne5 Bd6 with good compensation for the pawn."- Miles.
Hidden Text Below - [Show it] - [Hide it Again]
I am amazed that I didn't recognise the opening - I am very much aware of the Karpov-Miles game.
You mentioned Basman in our chat after the game. A friend (thanks Andy!) has pointed out this excellent Andrew Martin video on Mike Basman
===================================
Actually 3.a4 nowadays is a standard reply: 1.e4 a6!? 2. d4 b5!? 3. a4 Bb7 4. ab ab 5.Rxa8 Bxa8 Nd2 is given in the "books" and white has an edge. I would have probably played b4 which also appears to give an edge to White if not exactly a winning advantage.
Diagram 2: After 6.Nd2 (from analysis):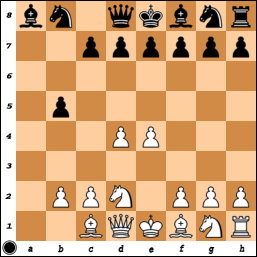 ======================================
Diagram 3: After 5.Bxc4 (from the game):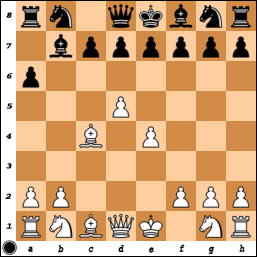 If, instead of 5...e5 Black played 5...e6, an interesting line is 6.Qb3 exd5!? 7.Qxb7 Nc6!

Diagram 4: After 7...Nc6! (from analysis):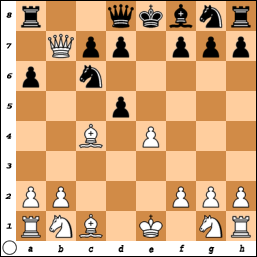 8.Bxd5 Bb4+ 9.Bd2 Ra7

Diagram 5: After 9...Ra7 (from analysis):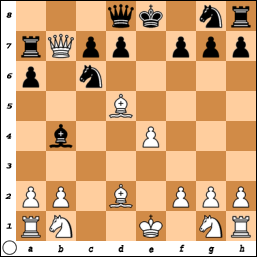 The queen is trapped. However White seems okay in a complicated position after 10.Bxc6 Rxb7 11.Bxb7

Diagram 6: After 11.Bxb7 (from analysis):
==========================================
As for 9...Nxe4 or Nxd5, I did look at those lines but concluded that the trick didn't work, an assessment that the engine seems to confirm-it just seems to lose a piece in that position and in later positions too. My move, 9...Nbd7 was considered best by the computer though it thinks (correctly, I believe) that White is a little better. 10. b4, which you questioned, I think was just fine though the engine incrementally prefers 10.Be3. BTW, I believe the term you were looking for was "desperado".
Thanks yes, that's the one!

Diagram 7: After 11.Bh4 (from the game):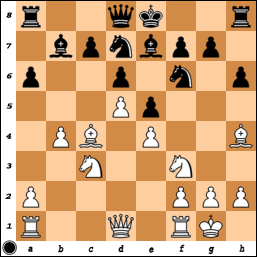 Here, the trick 'sort of' does work: 11...Nxe4 12.Bxe7 Nxc3 13.Bxd8 Nxd1 14.Bxc7

Diagram 8: After 14.Bxc7 (from analysis):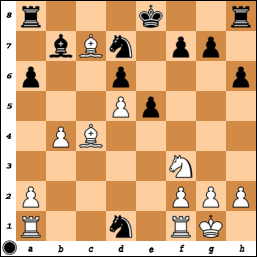 14...Nb2 15.Bb3 Ke7 16.Rab1 Nd3 17.Rbd1 Rhc8 18.Rxd3 Rxc7

Diagram 9: After 18...Rxc7 (from analysis):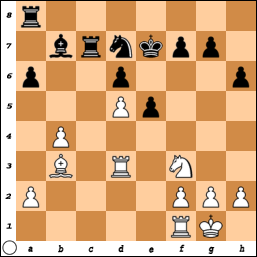 and Black is doing fine
=========================================
I think I was worse until 13...0-0 when the position seems roughly equal. My 16...f5 may have been a bit rash due to 17.exf5! and Black will have to work a bit to recover the pawn though it seems he will get it back eventually.
19.Nc5!?, which I overlooked, looks pretty good, optically speaking, but the engine seems to think Black is just fine. Chess is full of surprises!
It sure is! When I saw and played 19.Nc5 I thought I was probably winning, but after your reply 19...Bc8 I was flummoxed

Diagram 10: After 19...Bc8 (from the game):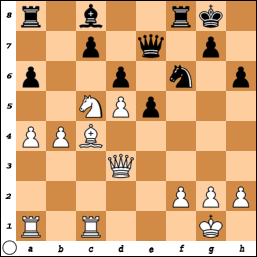 It seems that 20.Nxa6?! would not have been very good for White due to 20...e4! 21.Qe2 Ng4! and the engine feels that White has issues on f2. I sort of looked at something like that during the game and concluded Black would probably still be OK but the computer says Black would actually be better which I didn't think so at the time. You played 20.Re1 when the engine thinks that Nh5! fully equalizes for Black though it also likes the move I played, 20...a5 when it's about level.
Diagram 11: After 20...e4! (from analysis):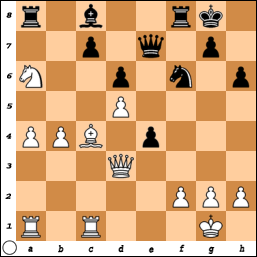 After 21.Qe2, ...Qe5 is also a strong alternative to ...Ng4. It seems Black is okay, at least.
Obviously, 23. Qxe4 would have been an improvement after which the engine says the position is dead level- after 23.Rxe4? Bf5 Black is apparently winning- at the time I wasn't so sure- I thought Black was better but it still looked like a lot of work lay ahead.
Also, I didn't think you were disrespectful in the least- you would have been justified in playing on looking for stalemate etc. I feel all players are entitled to play on, regardless. Having done a lot of endgame studies, I am aware that the most unexpected resources lurk in the most lost-looking positions.
I agree whole-heartedly =)
At any rate, I thank you for the game and the time you took to look at this. Good luck in the balance of the tournament!