Robofriven gave me the following game against BKildahl for our analysis exchange. We see an intersting, very imbalanced position with asymmetrical castlings and no real struggle for the center. Instead, both sides seem to play for an early, decisive attack on the opponent's king. White plays a beautiful combination and gets the advantage, but unfortunately runs into big timetrouble, loses two pieces and the game.
Please keep in mind that I am not such a great player. Everybody is welcome to help and/or correct me. I tried my best!
1. e4 d6 2. d4 Nf6 3. Nc3 g6
Black plays the Pirc or Yugoslav defence and doesn't mind that white occupies the center with e4 and d4.
4. Bg5
White plays the Byrne variation (B07). Here are a few alternative plans:
4. Nf3 with the idea Be2, 0-0;
4. g3 with the idea Bg2, Ne2, 0-0;
4. f4, building a huge center, with the idea of pushing pawns forward to attack at some point.
4...h6 5. Bh4
I prefer 5. Bxf6 exf6, compromising black's kingside pawn structure. That may not be such a big advantage, but white's bishop could, in some variations, turn out to be a bit misplaced.
5...Bg7 6. Bc4
White seems to be avoiding Nf3, with the idea to maybe push the f-pawn, I guess.
6...0-0 7. Qe2 c6 8. 0-0-0
After this black starts an attack, so here is the position so far: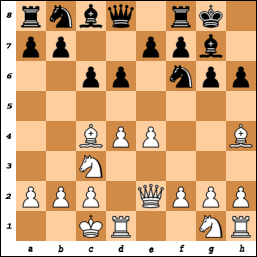 I slightly prefer black at this point. His position is solid yet flexible and by his next move he might be able to take over the intiative. However, white, being the lower-rated player, has made a wise choice to go for an imbalanced position, especially with 0-0-0. He keeps black thinking and awaits a mistake or a chance for a surprising tactic. And he will get it.
8...Nxe4
If white takes the knight he walks into the fork d5. So he plays the surprising:
9. Bxf7+! Rxf7
The material will be equal, but now the position of black's king is weakened.
10. Qxe4 Bf5 11. Qe3 Kh7 12. Nf3 Nd7 13. Ne4
13. Rhe1 might be an alternative, piling up on the half-open e-file and putting pressure on the e7-pawn, which is pinned to the queen.
13...Bxe4 14. Qxe4 Qh8
Black's plan obviously is to attack b2. However, e4 is well defended and now e7 is hanging.
15. Bxe7 Rg8?
I don't see the point of this move, but it looks so strange that there must be a point somehow. I'm lost here, maybe Robofriven and BKildahl can help me out.
15...Re8 looks much better, pinning the bishop to the queen and eventually winning the bishop.
This might be the most interesting position in the game: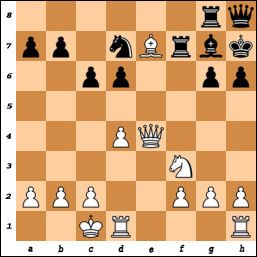 Notice that both black's king and queen are unable to move! I thought there must be a way to exploit this, but I couldn't find a way to force anything. I looked at
16. Qh4 threatening Ng5+, can be met with Bf6;
16. Nh4 threatening Qxg6+ and Nxg6 at the same time, can be met with Re8;
16. g4 with the idea h4, h5, can be met with Bf6.
White must have seen this and simply continued:
16. Bxd6 Re8 17. Qh4 Bf6 18. Qh3 b6 19. d5
Inviting black to start an attack on the king, but there is no way to force mate. The only problem is, that black can force a draw by repeating moves.
19...Bxb2+ 20. Kb1 Ba1 21. Kc1 Qb2+ 22. Kd2 Qc3+ 23. Kc1 Re2
Black misses the chance to force draw with 23...Qc3+ 24. Kc1 etc. and allows white a brilliant move:
24. Ng5+! Kg7 25. Qxc3+ Bxc3 26. Nxf7 Kxf7 27. dxc6 Nc5 28. c7
An excellent combination. White has a big advantage: three qualities, a dangerous pawn on the 7th rank and his king is out of trouble.
28...Re8 29. Bxc5 Rc8 30. Rd7+?
30. Bd6 instead and white can keep his extra piece.
30...Ke6 31. Rhd1 bxc5 32. R1d6+ Kf5 33. h3 Be5 34. Rc6 h5 35. Rxc5 Ke6 36. Rd8 Rxc7 37. Rxc7 Bxc7 38. Rc8 Be5 39. Re8+ Kf5 40. f3
In light of what happened because of Rob's timetrouble, one wants to suggest 40. Rxe5 Kxe5, simplifing the endgame, but still winning.
40...Bd4 41. Kd2 g5 42. Rf8+ Kg6 43. Kd3 Bc5 44. Rg8+ Kf5 45. Rf8+?? 45...Bxf8
This blunder is caused by timetrouble: Robofriven tells me, he had only 15 seconds left at this point. I'm not good with endgames, but I think his best try would now be to help his kingside pawns with his king. Is it hopeless anyways? Maybe someone can help me here, this is the position: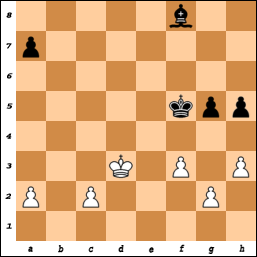 46. g4+?
This allows black to solve the situation on the kingside easily. I think 46. Ke2 would be the better try.
46...hxg4 47. fxg4+
Again, 47. hxg4+ with the idea Ke2 might be the better try.
47...Kf4 48. c3 Kg3 49. c4 Bc5 50. Ke4 Kxh3 51. Kd5 Ba3 52. c5 Bxc5 53. Kxc5
Black happily sacrifices his bishop and is unstoppable now. White has no chance to win the pawn race.
53...Kxg4 54. Kb5 Kh3 55. a4 g4 56. a5 g3 57. Ka6 g2 58. Kxa7 g1=Q+ 59. Kb7 Qb1+ 0-1