Re: Armis Training Journal
Here is a game I've just finished on a correspondence chess site. According to my opponent he is 2085 USCF rated thus I am rather proud of beating him, although he made his moves rather quickly which lead to a quick victory in 20 moves. Nevertheless I'll try to analyse it
I'll continue analysing ALL the games I play and try to put them here, however my PC doesn't work at the moment
thus I don't have access to my Fritz10 so computer analysis is more than welcome!
thanks for the comments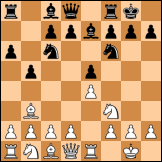 The first critical position where white has a choice. The usual ruy lopez move c3 would allow the famous Marshall gambit which honestly I don't really want to go into!
Thus I've been playing the so called a4 anti-marshall. The idea is to reduce the effect of it, mess up black's queenside a little bit, and give the rook on a1 some play as well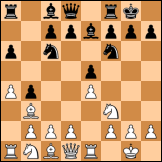 8. ...b4
Black decides to release the tension and gain some space. And although this gains space it does give up the c4 square which could be used by a white bishop to attack a6, a knight on c4 in some cases wouldn't be bad either. Personally I don't like it for black as it just doesn't seem flexible and neccesary.
10.a5!
A common idea in positions of the kind. Preventing Na5 and fixing the pawn on a6 as a weakness while the b4 pawn is also seperated and easier to attack. The drawback however is my a5 pawn although it gains space could turn out into a weakness
10. ...Bg4
This seems a little bit odd although it makes sense as black counters the c3 d4 plan and intends the freeing d5 as now since my knight is pinned there is not enough pressure on e5. Black also has ideas of playing Nd4. Another option worth considering seems to be Be6 to oppose my strong bishop
11. c3
This is the move I really wanted to play as I didn't really like neither Be3 nor Nbd2. It stops Nd4 gives my bishop a retreat square on c2 and prepares and eventual d4 once white is ready for it. The problem though is that the d3 pawn might become weak after black opens up the d file. Actually from here on I think black should have gone d5, he would get some space in the center but white would have the c4 square
11. ...Rb8
This might have some ideas of messing up my pawn structure as my queen would be overloaded. Bxf3 for example and I would have to take with the g pawn as my bishop would be left hanging otherwise. Still I didn't really mind that as then my e pawn would be rock solid, I would have two bishops and an open g file. I didn't really see how could black attack me
12. ...Re8
Initially I thought black is trying to get an improved version of the d5 advance as now his rook would defend the e pawn. But from here on black plays a slightly odd manouver Re8 Bf8 which is common in ruy to support the e5 pawn but here I am not entirely sure it's any good as i didn't play d4 yet.
13. Bc4
This looks like an awesome square for the bishop. I was just wondering how good for white is h3 g4 idea. But I think after h3 black's best is to oppose my strong lightsquared bishop with Be6 thus it seemed like h3 is a pointless move. My intention was to remove this bishop from the line of fire by the black rook and force black to make a move he doesn't really want to play. If Ra8 then his rook is no longer on an open file and if Qc8 then he can't play d5 anymore, at least he has to prepare it
15. Bg5
eveloping my bishop to an active square. In fact white is threatening to mess up black's kingside as my knights would get easy access to the f5 square. I think black can't allow this
16.d4
Finally! I think white has a clear advantage now
16. ....exd4?!
I think an inacuraccy as if black wanted to trade here he should have taken on c3 as well just to get the b4 square for his pieces and open up the b file. Besides Now my queen could hide on b3. So bxc first seems to be more accurate way of accomplishing this idea. Moreover, now I have a mobile pawn center. One might argue that black can put pressure on it and that now the Re8 Bf8 is justified but still I think white has a clear edge here.
17. ...Bxf3?
This is certainly wrong. White has a center thus black has to brake it down! So Bh5 to g6 seems like a reasonable idea to pressure white's center. Actually white doesn't mind taking on f3 with the g pawn as it would only solidify white's center. Moreover, white has the bishop pair now! Truth to be told I didn't see that I can take with the queen here but I liked white a lot after gxf3 as well. Once I got this position Qxf3 looked like a crushing reply, thus I went for it. I think white is just winning after that
Although pretty short I put a lot of effort in this game, I really liked it. It seemed that black was just pushing his pieces around without a clear plan in mind, although I might be missing something
that's my impression.