Re: BoyHowdy - L23: B vs hydroguy [11:49]
Thanks a lot for the comments, guys! It's really encouraging, as always, to have people watching my games and giving suggestions AND praise!
I'm looking at lines where White plays the e5 advance a move earlier.
10. e5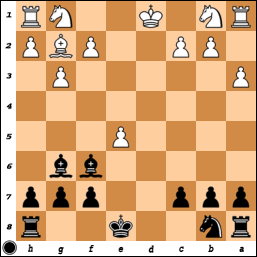 I think Black is in trouble here. Black can't expect to come out equal with 10...Bxe5. Then 11. Bxb7 Bxb2 12. Ra2. That little pawn lift is crucial in saving the White rook while Black's rook is lost. Because Black is not castled, he can't even expect to capture White's bishop after the rook is taken.
The best I've come up with so far is 10...Nd7, accepting a big loss of material but saving the rook. 11. exf6 Nxf6 12. Bxb7 Rd8+ 13. Nd2 O-O. White is up a full piece. In the same line, 12...Rb8 allows 13. Bc6+ when Black will not have time to capture the pawn on b2 and is forced to give up castling rights.
Anyone find any saving moves?
Talk to you later,
BoyHowdy