I had to restart this video and consequently lost my original greeting, then forgot to include one.
So, hello everyone!
Diagram 1: After 7...Bg4 (from the game):
8.h3 is a reasonable looking move, but I didn't want to move any pawns in front of my king.
Black's idea later in the game of sacrificing his light-squared bishop for an exposed White king, a passed h-pawn and a monster knight on g4 isn't effective this early in the game. For example,
Diagram 2: After 8.h3 Bh5 9.g4 (9.e5 Bxf3 10.Qxf3 would surely be better anyway) 9...Bxg4 10.hxg4 Nxg4 11.Nh2 (from analysis):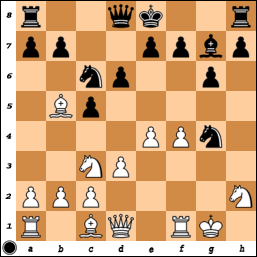 immediately challenging the knight. Significantly, White hasn't exchanged his light-squared bishop and the b-file isn't available to Black, so the whole idea looks premature here.
======================================
Diagram 3: After 8.Qe1 0-0 9.Bxc6 bxc6 10.Nh4 (from the game):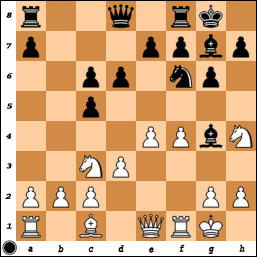 I would've been happy to see the bishop retreat to d7, e6 or c8, but my engine suggests these possibilities are fine for Black, along with 10...Qb6, 10...c4 and 10...Nh5.
Detroitman played 10...d5, which I think is a very interesting move. After I replied with 11.f5, the bishop appears to be trapped.
Diagram 4: If Black plays (after 10...d5 11.f5) 11...Nh5 12.h3 Bd4+ (from analysis):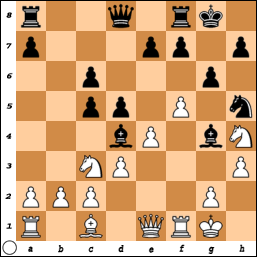 A tricky position arises.
Diagram 5: 13.Be3 Bxe3+ 14.Qxe3 d4 is approximately level (from analysis):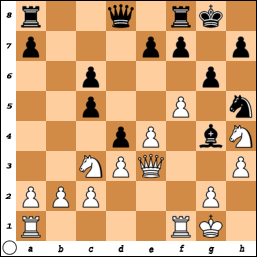 Diagram 6: 13.Kh1 Qd6 (threatening ...Ng3+) 14.e5 Bxe5 15.hxg4 Ng3+ 16.Kg1 Nxf1 (from analysis):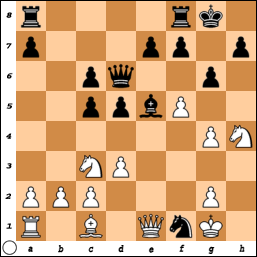 ...
Diagram 7: 17.Nf3 Bxc3 18.bxc3 Ng3 (from analysis):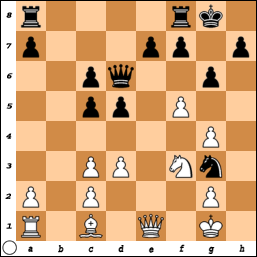 ...
Diagram 8: 19.Bg5 f6 20.Bh4 Nxf5 21.gxf5 gxf5 (from analysis):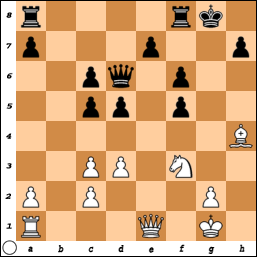 Black's powerful central pawn mass contributes to an equals-over-plus computer evaluation here.
Diagram 9: So, best for White seems to be 13.Rf2, after which for example 13...e6 14.hxg4 Qxh4 15.gxh5 exf5 16.Ne2 Bxf2+ 17.Qxf2 (from analysis):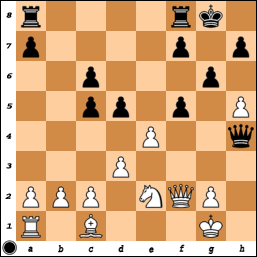 and my engine evaluates this position as plus-over-equals.
===================================
Diagram 10: Detroitman played 11...dxe4 12.dxe4 Rb8 (from the game):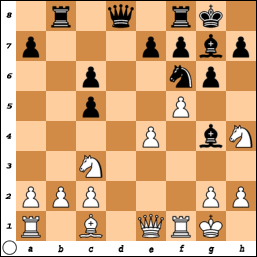 ...
Diagram 11: After which there followed 13.h3 Bh5 14.g4 Bxg4 15.hxg4 Nxg4 16.Qg3 Qd4+ 17.Kh1 h5 (from the game):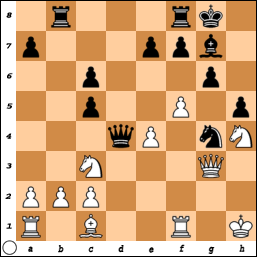 I now played the weak 18.fxg6, forfeiting any advantage. My engine suggests 18.Kg2, with a plus-over-equals evaluation. My idea after the game of attempting to give up an Exchange for the knight with 18.Rf4 also seems playable.
As I suspected, White's position is technically ok, but difficult (for me) to play in time trouble.
Therefore I think Black's bishop sacrifice was (at least) an excellent practical decision.
===================================
Diagram 12: After 18.fxg6 fxg6 19.Nf3 Qc4 (from the game):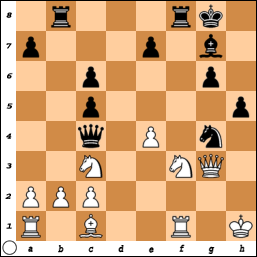 I was unable to see a way to proceed and blundered with 20.Bf4?? It turns out that simply defending the rook on f1 by 20.Qg2 or 20.Qe1 (or 20.Kg1 or 20.Kg2) is holding for White.
===================================
I felt disheartened during the game, but now can see (with computer assistance) that I didn't play so badly, until the final few moves.
There's no getting away from the fact that I struggle to maintain a decent standard of play at this time control.
Thanks Detroitman for the game, well played and good luck in the playoffs =)