Yesterday i was having a look at Curtains's video of his game vs Tigrano (very interesting game in the Tarrasch) and I came across the game Pacheco-Schiller, in my database, which had a rather odd ending. This is the position with black to play: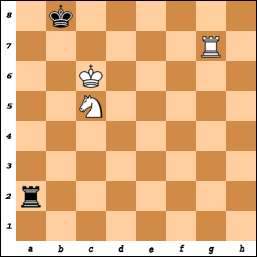 Here Schiller played: 70...Rh2?? Now white can win with the forced line 71. Na6+! Ka8 72. Nc7+ Ka7 73. Nb5+ Ka6 74. Ra7#
However Pacheco went: 71. Rg8+? Ka7 72. Rg1 Rh6+ 73. Kc7 Rh7+ 74. Nd7 Ka6 75. Rg5 giving the following position with black to play: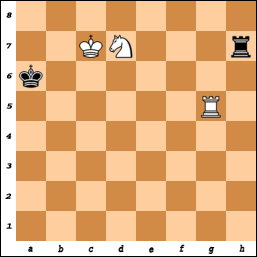 Schiller now played: 75...Rh1?? But this allowed: 76. Nb8+! Ka7 77. Ra5#
so back to the original position: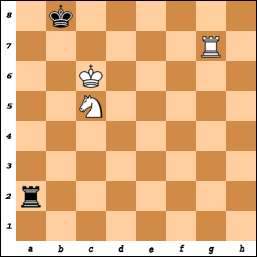 I think black can draw easily with several moves, but having played around with the position the thematic idea seems to be to check the king from a distance and when the king uses the Knight as a shield to pin the knight so it can't move. Schiller's method of trying to switch from checking at the rear to checking at the side doesn't work...
Here black's best move (I think) is 70...Rc2! pinning the knight. Then If the king moves black just checks.
Here's the second position: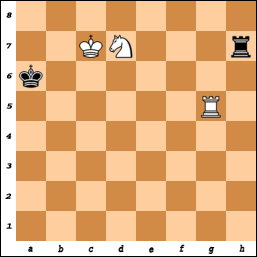 Black can still draw here using the same theme as before, but here all moves that release the pin on the Knight (such as Schillers ...Rh1) lose. ...Rf7 or ...Re7 both seem to draw.
Unfortunately my computer engine (somewhat ancient and no tablebase) is not much use in these positions since it thinks white is just 2 pawns up in all variations, so maybe I've missed some subtle resource. Would be interested in any comments.