So there always has been the ever present problem of searching for the videos you are looking for, especially now that we have over 2,000 videos posted on this site. While brainstorming, Josh and I came up with the most ambitious idea we have ever had... What if we created an system that indexed the positions in each video so you could search them? Well after months of work, we are proud to announce the
alpha
launch of
Position Search
within our video library.
Our system goes through a video frame by frame and automatically figures out the position on the screen. We then add this to our video position database. For our alpha launch, we have focused on the premium videos and master hangout sections, though we plan to continue to index videos and eventually get every video posted on this site indexed. As of right now, we have indexed over 800 videos and have found a total of
118,000 distinct positions
. For this
alpha
launch, we have focused mainly on openings, but we will roll out features for the middlegame and endgame in due time.
How do I use it?
First, here is the url:
Chess Video Search w/Position Search
You will notice the familiar chess video search interface, but with a new
Positions
section. In this section you can type the moves of any ECO opening (case sensitive), and your search results will automatically be filtered to only include videos with that opening. Take a look at this
example search
: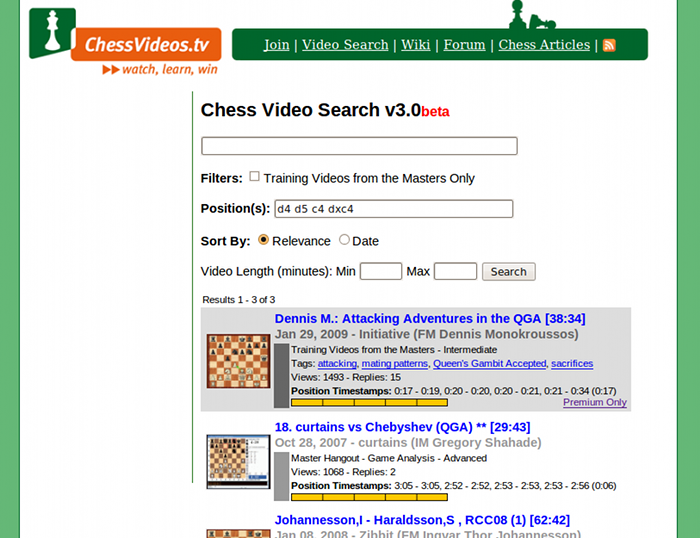 Features
:
1) The results are sorted by the total time the position(s) are in the video
2) You can see the timestamps when the positions are on screen. The timestamps are approximate and may not always be right, and are for each position in the opening... so in the above you are seeing timestamps for the position after: d4, d5, c4, and dxc4, which are of course 4 different positions and 4 different timestamps.
3) Any other searches or filters will work alongside your positions search, so if you want to look for videos starting with d4 by a certain user (
username:<user>
in the search box) or restrict to videos with a certain length, that will work with your position search.
4) You can also search by
FEN Position
if you would like. Just put up to 5 FEN positions in the search box (just the first part, for example the initial position "rnbqkbnr/pppppppp/8/8/8/8/PPPPPPPP/RNBQKBNR w KQkq - 0 1", you would just enter "rnbqkbnr/pppppppp/8/8/8/8/PPPPPPPP/RNBQKBNR"), and only positions containing all those FENs will be returned.
Final words
:
This system is new and ambitious. It isn't going to be perfect, it will occasionally return bad results (positions that weren't actually in the video, miss videos with a certain position, etc). However we will constantly strive to increase the accuracy of the system, and as it evolves it will be better and better. We also have some really ingenious ways to search for middlegame and endgame positions, and we will roll that out as soon as we can fully develop and test them.
Please post questions or comments in this thread.
Disclaimer
: This feature is going to become premium only after the "sneak peek" period ends, which will be in 1-2 weeks. I apologize if you have philosophical problems with this, if you have complaints with this feel free to email me at
admin@chessvideos.tv
, but I will delete them if you post in this thread.