jsalberg wrote:


I completely blew the openings of two of these games and am spending the rest playing catch-up....the story of almost every chess game I've ever played.


I lost one of those games and will post it when I get a chance. I know one "strategic" mistake a made, and that was:
(a) I was losing early and identified a strong counter-tactic that depended on my opponent not seeing it.
(b) When he didn't play into it, I stuck to the possibility too long and allowed him to really build a position on me.
Later in the game, I had a (mild?) shot at turning it around with some heavy pawn pressure, but I waited too long to exploit this, opting instead for trying to subtle him into into making a mistake.
On the other game (STILL IN PROGRESS, but I'm very frustrated at what I did), I had fairly well equalized over my mistake early and then completely blew it. This is the kind of mistake I make all too often. I can grow as a tactical player (up to about 1370 on tactics in CT), but until I learn how to stop doing these extremely major blunders, it's a lost cause.
The bad thing is that I saw this as a premature move before I did it, and later did it anyway.
Here's the position before my blunder (I'm White):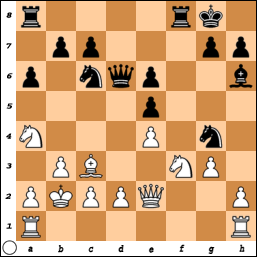 This game is in progress, so no input yet!
The background:
He attacked early on a miscalculated opening and he really squeezed my King and Queen with both Knight and Bishop, and he maintained constant fork threats with his Knight. I gained some breathing room and countered with an attack on his Bishop driving it back.
My plan here was to continue to try to drive him back..attack his Knight either with pawn or by discovery by moving my Knight. My other Knight was pretty much gone (b6 wins the Knight), but I saw several lines that if I played it right, I could keep it even. That's what I was playing for at this point...
I even looked into possibility of playing Ng5 just to see how he handles it. Bishop takes then I get the Knight with continued threat on the Bishop in particular and the King side in general. I was also looking at a getting his Queen off the 6th rank with my Queen on c4, so if he did go b5, I could take his Knight. I was trying to be patient to wait for this to, and was contemplating Raf1 at an intermediate move.
And so, I threw all the "thinking" out the window and I left my Knight on f3 hanging to the Rook by moving Qd3. My thought was that if he doesn't want to trade Queens, the only move he's got is Qe7, which lets me go to c4, attacking his Knight if he goes after mine with b5. I completely neglected the Queen trade followed by Rxf3, putting him up a Knight. Or, he can go Nf2, I trade Queens and he gains the Rook for Knight, with his rook on my side to boot (that's probably the best I can hope for at this point).
This is a game in progress (will welcome comment after it's over), so I'm now looking at anything to minimize the damage of going down at least a Rook and maybe two Knights. It's not looking good. I see a lot of ways he can just devastate me.
I will love to go back and play this game from this point.
And, I should also add that I could have won this game on time had I chose; I'd rather play chess. So, now I'm probably gonna get a loss, but hopefully will come out of it a better player....maybe.