It wasn't the cough that carried him off; it was the coffin they carried him off in. No worries here: I put on a surgical mask to avoid catching whatever bug you have...
Now that was a fun and interesting video, which acutally got me thinking when I wasn't laughing...
I confess that I've never even heard of the Fred Defense, let alone faced it in a game. (Not that I wouldn't be delighted if someone tried it...
) I found all those White losses -- admittedly not by the best players -- the most instructive thing. Yes, the Fred Defence (and its many "Coffee House" siblings) range from unsound (like the BDG) to bad (like Fred), but beating them can be a chore as demonstrated here. Mostly I think it's because those who play them typically specialize in them, while the rest of us wouldn't waste any study time on them at all.
That being the case, one has to be able to bust this sort of thing over the board. That can be hard in a blitz game, but at a slow time control I think it's eminently doable in practice. (Easy for me to say... I only play CC games these days!
) Still, the most important thing is to take a deep breath and *THINK* about the situation. Your opponent has just played some bad moves, maybe s/he was deliberately trying to insult or provoke you into doing something stupid, but that doesn't mean you have to take the bait and react badly. That's what they want if they're playing something like the Fred Defense, so don't give it to them as a matter of principle. Instead, be objective; it does wonders for one's chess ability. They deserve to be punished appropriately, but that doesn't usually mean mate in 10 moves even against something as bad as the Fred.
I have to admit 3.Qh5+ was my knee jerk reaction to 2...Kf7, but it doesn't work very well here because White doesn't have any other pieces out and bringing one's queen out early in the opening is itself a violation of opening principles without a strong tactical justification.
One reason 3.Bc4+ is so much better is that it develops a piece with tempo while giving the queen the e2 square to gracefully retreat from h5 if that later becomes necessary. That's why White lost all those games, because there isn't anyplace safe on the 5th rank that early and the queen gets chased around while Black develops with tempo. The second reason is that after 3...d5 White now has tactical justification for bringing the queen out with 4.Qh5+:
If 4...g6 5.fxg6+ Kg7 6.Qxd5 (the official refutation), the bishop provides the tactical means for winning the d-pawn and forcing Black into a lousy pawn-down endgame.
If 4...Kf6 (the Black king on f6 prevents ...Nf6 -- the other part of the tactical justification for 4.Qh5+ here) 5.d4 (covers the e5 square) Bxf5 (if 5...dxc4 6.Bg5+ Kxf5 7.Bxf7+ winning the queen) 6.Bg5+ Ke6 and we're here: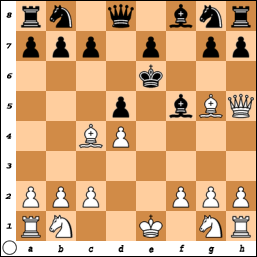 Notice that we're on move 7 and Black hasn't had a chance to capture the bishop on c4. (I wasn't kidding when I said 3.Bc4+ developed with tempo, but it isn't obvious.) I think best for White is the simple 7.Qe2+ Kf7 8.Bd3 bringing the queen back to safety with tempo while being ahead in development with a better pawn structure and a safer king. (Note: if 7...Kd7 8.Bxd5 or if 7...Be4 8.Qxe4+ or if 7...Kd6 8.Qe5+ Kc6 9.Nc3 and Black is in a world of hurt and
still
can't take the bishop on c4: 9...dxc4 10.Qb5+ Kd6 11.Qd5#) At this point I'd say Black has been appropriately punished for his first two moves: White is ahead in development and has an easy game to play with no problems or weaknesses. No miniture, but I'll take that sort of advantage right out of the opening.
Anyway, thanks for a thought provoking video!