Josh
Thanks very much for analyzing my game! Your analysis is spot on and after mishandling the opening black was in major trouble throughout most of the game - I like your ideas for white with f5 and also 15.Nc4 would have been unpleasant! I agree that 0-0-0 wasn't objectively a good idea, but people who play the Stonewall are tuned for an automatic king side attack so at least I avoided that
Also I thought that after castling kingside white might be able to play a quick g4-g5 since with the centre closed white's own king would not be in much danger.
Since then I've had a look at how black should handle the Stonewall Attack and it seems that using this Queen's Indian setup it's much better not to play d5 as early as I did. In Queen's Indian positions it seems that black should avoid …d5 unless white is threatening himself to play d5 grabbing space in the centre (A tip I picked up from Wells's book on the Queens Indian). Another thing that people do in this line is to play Ba6 which either swaps of white's good bishop on d3 or stops him from castling kingside (if the bishop hides) – quite similar to some lines of the French Defence. So the line might start:
1.d4 Nf6 2. e3 e6 3. Bd3 c5 4. c3 b6 5 f4 Ba6!?
Giving this position, when black has good play I think: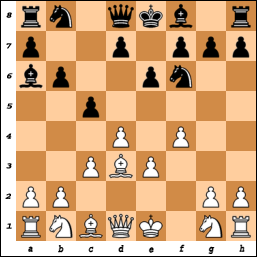 Also this Queen's Indian type of plan seems to work well against other slow white d4 systems such as the Colle.
I think in the game if 25. Kh1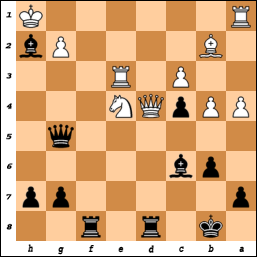 then maybe …Qg6 or Qg4 would be good when white's queen is trapped in the middle of the board! and black still has threats against g2
Fumar wrote:

At 20:50, after black plays Re3, can't we grab the queen in a favorable exchange with ...Rf4?
I didn't see …Rf4 in the game, but looking at it now it seems to work and would also have been good if white had played Re2 instead of Re3.