I was quite fascinated by the second problem position that the computers had some difficulty with. It's perhaps not surprising that computers overestimate White's position given the rook shaped pawn on b2. Anyway I had some fun analysing it myself and found some neat ideas that I thought I'd share. I also agree that whilst an entertaining game, this is not worthy of the second place it achieved.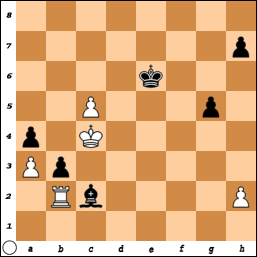 1. Kb5 Kd7 2. Kxa4 g4 3. Kb5
The king can't get over to the kingside in time so it tries to help with the queenside promotion. 3. Kb4 was the line considered in the video.
3... h5 4. a4 h4 5. a5 g3 6. a6
(6. hxg3
It is quite neat here than in the line where White captures Black must promote on g1 to win. We shall see that if White ignores the pawn then Black must promote on h1!
6... hxg3 (6... h3? 7. a6 h2 8. c6+ Kc7 9. a7 h1=Q 10. a8=Q = This time forcing an exchange of queens does not lead to a winning position as there are no kingside pawns left.) 7. a6 Kc7 8. c6 Kb8 9. Kb6 g2)
6... gxh2
(6... g2? 7. c6+ (7. a7?! is more complex due to 7... Be4 finally letting the rook out! 8. Rd2+ Kc7 9. Rd1 b2 10. c6 b1=Q+ 11. Rxb1 Bd3+ 12. Kb4 Bxb1 13. a8=Q 13... g1=Q I'm not sure if Black can avoid the perpetual check but White has made things much more complicated than need be.) 7... Kc7 8. a7 g1=Q 9. a8=Q =)
7. c6+ Kc7 8. a7 h1=Q 9. a8=Q
Now Black can force an exchange of queens without allowing a perpetual so the h pawn will win it for him.
9... Qd5+ 10. Kb4 Qd4+ 11. Kb5 Qb6+ 12. Kc4 Qxc6+ 13. Qxc6+ 13... Kxc6 and wins. 0-1