Hey Pobble
Thx for commenting
I was also a bit concerned about my passive position. After 11. Bxe4 was the first time I took a closer look into the position. The "all-out-exchange"-line which happened in the game was a line I was uncomfy with because I was a bit concerned about the endgame. At move 11. white also still had the bishop pair. My analysis from Sunday of that phase of the game. I always share that with a friend so I am just translating it:
**** instead of 11...Bh3
Recognized that as an intersting position and calculated the following lines:
a) 11...Ne6 12.Be3 c5 13. d5 and things got a bit fuzzy, continued to calculate 13....Bxe5 14.dxe6 Bxe6 and now I wasn't sure about that. I recognized I am up a pawn and I am attacking c4 but also that c5 AND b7 (Ra8 still) is hanging and I wasn't able to correctly judge/visualize that position in my head.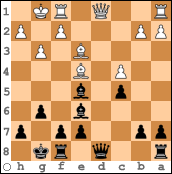 b) 11...f6 Only looked at that for a moment because the hole on e6 and blocking the B didn't look attractive but Fritz gives a very nice line here based on 12.Nf3 Bg4 and then pushing the f--pawn to open the f-file and work with the pin.
As said above...I also felt uneasy with the game continuation because I was concerned about the endgame
****
13....Bxe5
Stopped again to look at 13....Ne6 instead but here wasn't sure about 14.Be3 c5 15.d5 Bxe5 16.dxe6.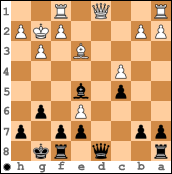 As white has given up his Bishop pair with 12.Bg2 I felt much more comfy to go for an endgame. I was still aware of the fact that B > N might get a bit tricky but there were still both R on the board, so I went for it as the other line I had in mind (Ne6) also wasn't clear to me
---
Ok, I mean I didn't have a variation diagram in front of me, that's probably the main issue
, but I correctly calculated these lines and in the end just lacked confidence to go in for that.
I think I tend to overstimate my opponents a bit atm. I do see such variations which I think might be good for me but then it always irritates me that my opponent allows that - I mean they are supposed to be stronger than me. I do slowly build up that confidence though because post-game analysis of my recent games start to show me that I do have a good judgment on the position. Atm, I really do think I need a bit more confidence to trust my calc and intuition.
I enjoyed this game a lot (in hindsight, while playing it was torture due to blacks passivity) because I think I hold the endgame quite nicely. Had some nice N maneuvers in there which tactically held the position
Thx again for commenting ,and nice to see that I share the same opinion as you about the position.