Alright, we have a new and fancier than ever uploader. This is going with our theme in collecting more information about our videos so we can sort them better. Due to the upgrade, any video you upload with any version previous to 0.7.0 will not be posted, it will just languish on the server wanting to be seen.
How to upgrade:
First, if you already have the old version installed, Uninstall it because we have changed names. Go to wherever you installed the original uploader (probably c:\program files\Chess-Videos.com Uploader\), and click the Uninstall button.
After you uninstall your old version,
download version 0.7.0
and install it.
It should look like this: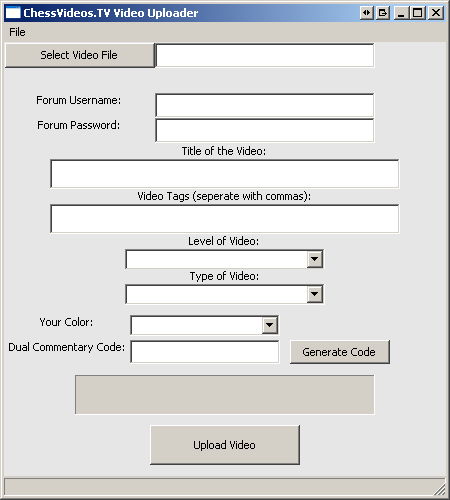 What's New:
We have split up the skill level and the type of video. Skill level is your guess of the target audience for the video. Type is obviously the type of video.
We have also added Color. This is required if you upload a Live Commentary or Dual Commentary, and optional for anything else. But for example if you post a chess puzzle for white, you probably want to select white. Leaving this blank and selecting "N/A" are the same thing.
The next 2 are bigger changes.
First we have
tags
. This is where you can put words or phrases that describe your video. For example you might want to include the opening, the theme or anything you think that describes it. Seperate the tags with commas and you can put as many as you want.
Second, in order to automate dual commentaries, we have added a dual commentary code. If you have just played a dual commentary, you and your opponent should pick some sort of password and both copy/paste it into the box. If you are the first person to upload your video and can't think of anything, just click "Generate Code" and a unique string will pop up. Remember:
both players must have entered the exact same code for it to automatically match up; also one player must be white and the other must be black or it will not work
.
Now keep in mind after your video posts, it is just going to look like normal without any of the added information. However keep in mind everything is being stored and indexed and we are going to upgrade our viewer and search to incorporate the new information.
If you have questions or comments, post them here!