Having watched the videos of IM Gregory Shahade (Curtains). I was inspired to use his training method of guess the master move. I have done a few and have found them enjoyable, challenging and a valuable method of improving my game. This is the first of many that I hope to share with you.
GM Alexander Beliavsky - GM Vladimir Kramnik, Belgrade Investbank 1997
For this game I decided to play alongside Vladimir Kramnik. I wanted to play a game that arose from an opening that I play. The Tartakower Defence.
The opening moves 1.d4 d5 2.c4 e6 3.Nc3 Nf6 4.g5 Be7 5.e3 0-0 6.Nf3 h6 7.Bh4 b6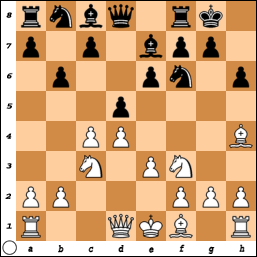 Our game begins from this position. I will give my move and then the Kramnik's obviously inferior move and note any interesting points that crop up. A green move from kramnik means I got it right, red means I was wrong
8. Qb3
8...Bb7
A natural developing move. Kramnik
8...Bb7
9. Bxf6 Bxf6 10. cxd5 exd5 11. Rd7
11...Re8
. I spent some time looking at this position. I didn't like the idea of Ne5 Bxe5 dxe5 and then the pressure on my d pawn is strong and I have to defend with something like c6 which I don't want to play as it makes my bishop ridiculous and I want to play c5 at some point. Re8 stops Ne5, develops a piece and puts my rook on a nice file. Kramnik
11...Re8
.
12. Bd3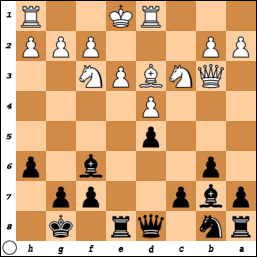 12...c5
c5 is the natural freeing move in a lot of QGD lines but it must be made carefully. In fact when looking at this position I missed the follow up and would have just blundered a piece so although I did get this move right I got it for the wrong reasons. Kramnik
12...c5
13.dxc5
13...bxc5
. This is the incorrect follow up now 14. Qxb7 is just winning for white. Instead the move 13...Nd7 is a really nice move. point being that after 14.cxb6 Nc5! is a nice move 15.Qc2 Qxb6 and black has a nice position. K
13...Nd7
.
14.c6
Bxc6
15.0-0
Nc5
16.Qc2
16...Rc8
I thought for sometime in this position. I was tempted to play Nxd3. Having the two bishops vs two knights could be promising. However after Rxd3 white gets potential pressure against my d-pawn and can double rooks. Further more with the isolated pawn we don't want to trade pieces and my knight on c5 is a strong piece. Instead I played Rc8. A nice move as it develops my rook and lines it up with his queen. Now white has to worry about potential discoveries and once the pieces move my Rook will be nicely placed on the open file. K
16...Rc8
17.Bh7
17...Kf8
This is a minor point I believe. Kramnik plays Kh8, my thought is that this does threaten g6 to trap the bishop and maybe black doesn't want to be on the f8-a6 diagonal although with no Dark square bishop this doesn't seem to be a huge problem. Also perhaps later white will want to play Qh7 and penetrate that way so the king on h8 defends that.
17...Kh8
18. Bf5
18...Ne6
This was an interesting moment in the game. I looked at 2 candidate moves. Rc7 and Ne6. In the end the decision came out of positional factors. Rc7 does get out of the attack and does let me double rooks at some point on the e or c file once the queen moves. However I was concerned with Nd4 and i wasn't in love with the positions that followed. Nd4 Bxd4 Rxd4 Ne6 doesn't fill me with joy. I played Ne6 which controls d4.If Bxe6 fxe6 gives me connected pawns in the middle and 2 bishops. K
18...Ne6
19. Nd4
Nxd4
20.exd4
20...Rc7
Here I looked at two moves Rc7 which I played and Bb5. I decided to play Rc7 because it allowed potential doubling of my rooks. However Bb5 was a mistake and I didn't see why. 20...Bb5 21.Bxc8 Bxf1 22.Kxf1 Qxc8 23.Qb3 and black has no advantage. In the end I did play correctly but I didn't reject Bb5 due to that variation I just decided Rc7 was better. K
20...Rc7
21. Qd3
21...Rce7
This move is played later however we want to play the inbetween moves g6 and h5, we can use these pawns for kingside pressure and getting them with tempo is nice as white otherwise would play Bg4 and now these moves would need more preparation. K
21...g3
22.Bg4
h4
23. Bf3
Rce7
doubling the rooks on the e-file. Black has an edge.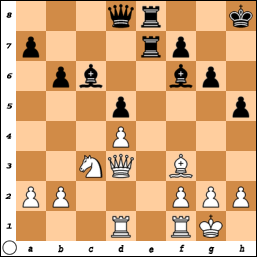 24. g3
24...Bg5
I wasn't sure how to continue as black. The best plan would be to push my kingside pawns, h5-h4 and try to break down whites kingside pawns and use my dark square bishop to take advantage of his weak dark squares. Bg5 doesn't do this and hinders the advance of my pawns. I think I considered using the f pawn in this position but the h4 plan is much stronger. K
24...h4
25. Qd2
25...Kg7
White tries to defend the threat with the idea of Qh3+ however the quiet Kg7 defends, I was happy I found this move, identifying what your opponent wants to do is important and Kg7 supports my pawns, removes the threat. potentially allowing my rook to shift to the hfile. K
25...Kg7
26.g4
26...g5
White tries to relieve the pressure on the g3 and also threatens g5, trapping the bishop pawn. g5 and Re6 are the two moves available. I didn't see Re6 but it is a nice move. g5 does hinder our bishop and Re6 has the potential of Rf6 at some point, a powerful move.g5 scores ok but it isn't as good.
K
26...Re6
27.h3
27...Bg5
natural move flows with Re6 as Rf6 is now an option.
K
27...Bg5
28.Qc2
28...Qf6
When I was analysing here I was too fixed on my rooks staying connected and In my mind I thought that Qf6 Bxd5 Bxd5 Nxd5 Qf3 had something for me, but on reflectio there isn't much there and Qb3 is fine for white. Instead Qd6 is nice, we keep the connected rooks and our queen eyes the weak dark squares.
K
28...Qd6
29.Qb3
29...Be3
I couldn't see what to do and chose an impatient sacrifice which doesnt work Be3 fxe3 Rxe3 Bg2 Qg3 and I have nowhere to go. Bd8 I believe the obvious idea is to play Bc7 at some point and if Nxd5 Bxd5 Qxd5 Qf4 and white's dark square problems will lead to his dowfall. K
Bd8
30. Bg2
30...Bc7
This flows with the original plan however when white plays Bg2 Bc7 is met with 31.f4 which does weaken some squares but defends for the time being. However Bg2 is a blunder as it ovelooks 30...Qf4! and after Bc7 the dark squares are too weak and white will fall. K
30...Qf4
31. Rc1
31...Bc7
Natural move white is nearly dead
32. Rfd1
32...Rf6
You have to create multiple weaknesses in the enemy camp with the move Rfd1 which made space for the king he has left the defence of the f2 square. so Rf6 is a nice move. K
32...Rf6
33. Qc2
33...Qh2+
I honestly wasn't sure what to do here i played Qh2+ to force his king out of the corner, but Re3! is a great move. K
33...Re3
34.Kf1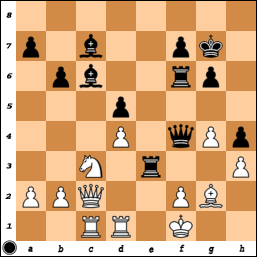 34...Rxc3
white resigns here I will let you go through the tactics. K
34...Rxc3
So a great game, really nice play from Kramnik, who exploited the dark squares very nicely. I think I did ok although my correct moves were inflated by some obvious move and moves I played for the wrong reasons. But i definitely feel like I improve whilst doing this kind of exercise
Please leave any comments and thanks for everyone who has read this.